Data documentation
This section provides detail on how the LMI for All database is structure, as well as the contextual information, datasets and indicators.
A summary of these sources are available here and LMI for All Data overview (February 2019) is also available.
LMI for All organising framework
Data are linked together by occupation classified at the unit group 4-digit level of the 2010 Standard Occupational Classification (SOC) produced by the Office for National Statistics. An index of around 28,000 job titles mapped to SOC enables the end-user to search for and access data of interest and relevance to careers in an intuitive fashion. The SOC2010 structure provides an organising framework for LMI for All.  The following is an example of how the classification is structured: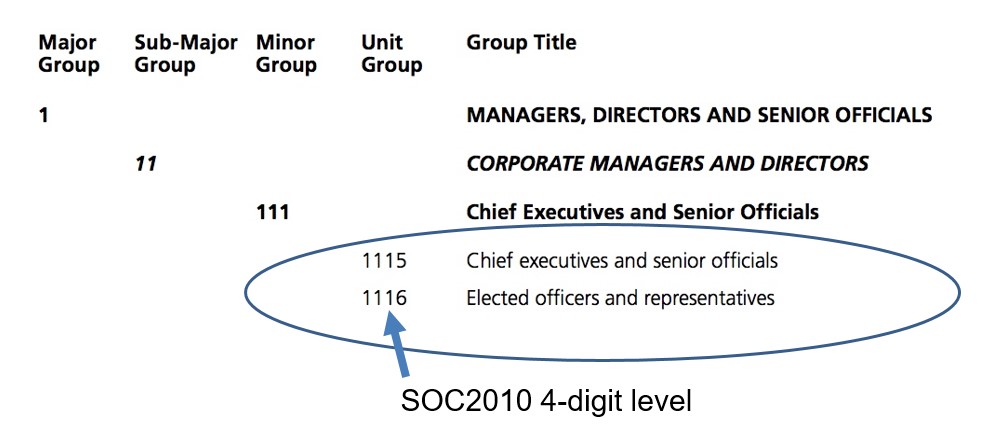 More details on the methodology, structure and descriptions are available online:
Volume 1 outlines the background, resources, concepts, and processes of the Standard Occupational Classification.
Volume 2 consists of a detailed alphabetical index of job titles, giving both the SOC2000 and SOC2010 Unit Group to which each is assigned.
The database will adopt the SOC2020 structure and work is underway to progress this.
Contextual data
To support the organising framework of the LMI for All database contextual data is included from the Office for National Statistics and the US O*NET system mapped to UK Standard Occupational Classification. The datasets provide description of occupational role and common tasks associated with the role:
Data descriptions and indicators
As new data is published the LMI for All database is regularly updated. The current version of the LMI for All database contains the following key data sets:
2020 Data update schedule
Unemployment rates (updated and now available through API)
Higher education destinations (update due in late 2020)
Working Futures dataset – occupational projections to 2027 (updated and now available through API)
Index of ONS job titles and descriptions linked to SOC2010 (updated and now available through API)
Pay and Hours (to be updated summer 2020)
Skills, Knowledge, Abilities and Interests (updated and now available through API)
Integration of updated apprenticeship vacancy data and new mapping (to be completed in spring 2020 – coming soon!)
Update number of vacancies, hard-to-fill and skills shortages from ESS (to be updated late 2020)
Updated mapping from SOC to O*NET (updated and now available through API)
 Work on updating to SOC 2020 is in progress!