UK Skills taxonomy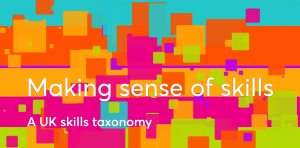 NESTA have launched an interesting new Tool – a UK skills taxonomy:
"Skill shortages are costly and can hamper growth, but we don't currently measure these shortages in a detailed or timely way. To address this challenge, we have developed the first data-driven skills taxonomy for the UK that is publicly available. A skills taxonomy provides a consistent way of measuring the demand and supply of skills. It can also help workers and students learn more about the skills that they need, and the value of those skills." NESTA
It should help with careers guidance and is ideal for people looking at the return to differing career choices and how you get there. NESTA began with a list of just over 10,500 unique skills that had been mentioned within the descriptions of 41 million UK job adverts, collected between 2012 and 2017 and provided by Burning Glass Technologies. Machine learning was used to hierarchically cluster the skills. The more frequently two skills appeared in the same advert, the more likely it is that they ended up in the same branch of the taxonomy. The taxonomy therefore captures 'the clusters of skills that we need for our jobs'.
The final taxonomy can be seen here and has a tree-like structure with three layers. The first layer contains 6 broad clusters of skills; these split into 35 groups, and then split once more to give 143 clusters of specific skills. Each of the approximately 10,500 skills lives within one of these 143 skill groups.
The skills taxonomy was enriched to provide estimates of the demand for each skill cluster (based on the number of mentions within adverts), the change in demand over recent years and the value of each skill cluster (based on advertised salaries). The estimates of demand get us halfway to measuring skill shortages. Most importantly, a user can search on the taxonomy by job title, and discover the skills needed for a wide range of jobs.
The ten clusters (at the third layer) containing the most demanded skills are:
Social work and caregiving
General sales
Software development
Office administration
Driving and automotive maintenance
Business management
Accounting and financial management
Business analysis and IT projects
Accounting administration
Retail